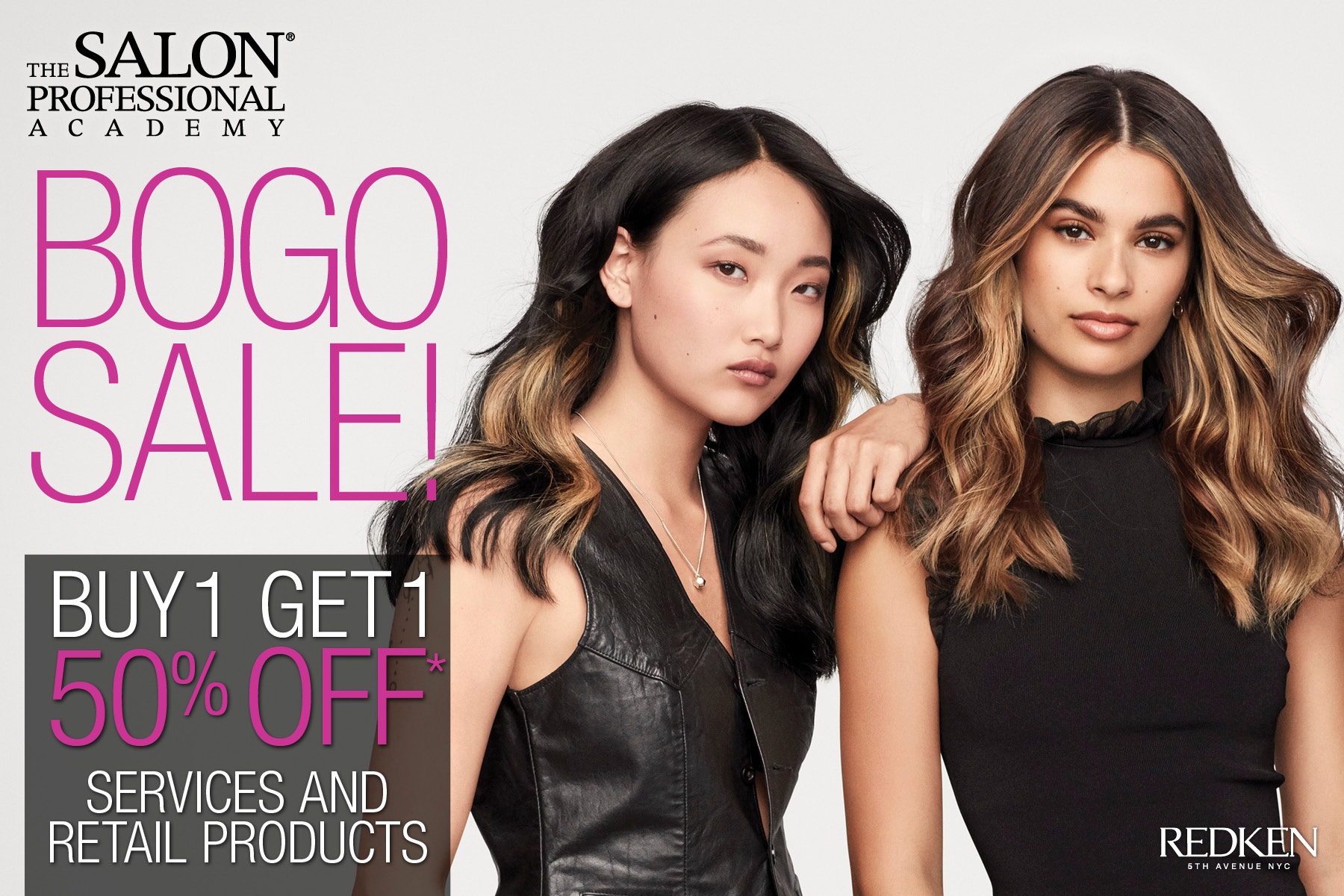 Looking to make the most of your hard-earned money this summer? Well, The Salon Professional Academy in Fort Wayne, Indiana, has got some fantastic news for you! The BOGO 50% OFF sale is here to give you unbeatable savings on both retail products and services. Not only can you score amazing discounts on your favorite items, but you'll also receive a $5 promo card for services priced at $20 or more if you book before August 31st. In this blog post, we'll dive into the details of this extraordinary sale and explore how you can take full advantage of the deals available. Get ready to maximize your savings and treat yourself to some well-deserved retail therapy and pampering!
What is BOGO 50% OFF?
BOGO 50% OFF, short for "Buy One, Get One 50% Off," is a deal that lets you buy one item at its regular price and receive a second item of equal or lesser value at a 50% discount. This incredible offer applies to a wide range of retail products and services, making it a perfect opportunity to stock up on essentials, indulge in luxurious treats, or try out new experiences without breaking the bank.
Shop 'til You Drop
Calling all beauty enthusiasts! Prepare to be pampered and beautified with the incredible BOGO 50% OFF sale on all retail products. Indulge in luxurious hair treatments, revitalize your skin with premium skincare products, and moisturize your cuticles with quality cuticle oil—all at irresistible discounts. With this offer, you can take advantage of a range of high-quality retail products at half the price. The Academy carries the full line of salon-quality products from Redken and Mizani, luxury skincare products from Circadia, nourishing nail products from Tammy Taylor and moisturizing products from Hempz — all products that are well-known and loved in the beauty industry. Treat yourself to a day of relaxation and self-care while stocking up on your favorite beauty essentials. Don't miss out on this amazing opportunity to look and feel your best without spending a fortune! As always, if you're not sure which products would work best for you skin or hair, you can book a consultation with one of our cosmetology, esthetics or manicuring students who can put you on the right path! To do so, call Guest Services at (260) 755-3374.
Indulge in Services
The BOGO 50% OFF sale doesn't just stop at retail products—it extends to services too! Treat yourself to some pampering and self-care by taking advantage of discounted spa treatments, salon services, or wellness sessions. Whether it's a rejuvenating paraffin wax treatment from a manicuring student, a refreshing facial from an esthetics student, or a new hairstyle from a cosmetology student, this sale allows you to splurge on services that enhance your well-being without breaking the bank. Plus, by booking before August 31st, you'll also receive a $5 promo card for services priced at $20 or more, giving you an additional incentive to pamper yourself.
Try Something New
Have you been wanting to explore new experiences or try out new services? The BOGO 50% OFF sale is the perfect opportunity to step out of your comfort zone. Consider booking a facial, trying a body wax, or getting a blowout. The student at The Salon Professional Academy are ready to serve you! With the discounted second offer, you can bring a friend along to share the experience or try two different activities yourself. It's a great way to discover new passions, learn new skills, and make lasting memories.
Make the Most of the Promo Card
Booking before August 31st not only secures you the BOGO 50% OFF discount but also earns you a $5 promo card for services priced at $20 or more. Take advantage of this additional perk by treating yourself to an extra service or saving it for your next visit. It's a fantastic way to stretch your savings and enjoy more value for your money. Again, if you aren't sure what additional service or product would benefit you, just ask! Our students are knowledgeable and eager to set you up for success!
Conclusion
The BOGO 50% OFF sale is a golden opportunity to enjoy substantial savings on retail products and services. Don't miss out on the chance to revamp your skincare regimen, upgrade your hair do, indulge in self-care, and explore new experiences. Book before August 31st to secure the discount and receive a $5 promo card for services priced at $20 or more. This summer, shop smart, pamper yourself!
BOGO 50% Off promotion ends June 30, 2023. Act FAST!