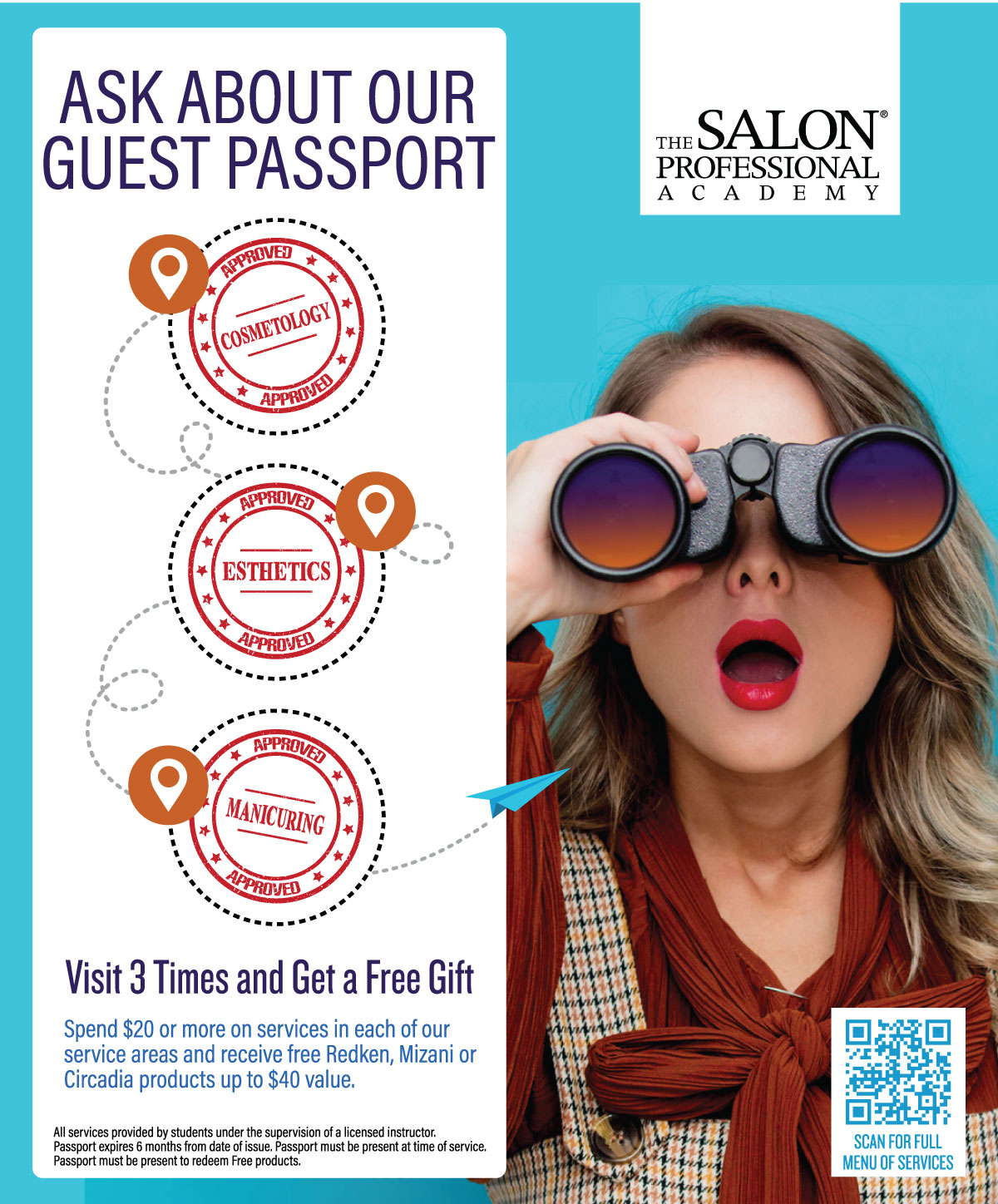 Are you ready to indulge in a pampering session like never before? The Salon Professional Academy Fort Wayne has just the treat for you this season! We're thrilled to introduce our exclusive Retail/Service Promotion: the Guest Passport.
What's the Guest Passport, you ask?
The Guest Passport is your golden ticket to a world of beauty and self-care. When you spend $20 or more on services in each of our service areas (Cosmetology, Esthetics, or Manicuring), you'll receive complimentary Redken, Mizani, or Circadia products valued at up to $40!
How does it work?
Getting your hands on these fabulous products is a breeze:
1. Initiation: Your journey with the Guest Passport begins the moment you arrive. Your student stylist will introduce you to this fantastic offer and inquire if you'd like to participate.
2. Stamping the Passport: Once you're on board, our Guest Services team will fill out the back of the passport with your name, your student stylist's name, and the date of issue.
3. Service Time: When it's time for your service, make sure to have your passport on hand. Our talented students, under the guidance of licensed instructors, will provide you with top-notch service.
4. Stamp of Approval: After your service, your passport will be stamped or initialed by a member of Guest Services to validate the eligible service.
5. Redeem for Freebies: Once you've collected all your 'stamps,' it's time to turn in your passport. You'll walk away with fantastic Redken, Mizani, or Circadia products to enhance your beauty routine.
Important Information:
– Passports are valid for six months from the issue date, so you have time to collect those stamps!
– Please remember that Manicuring services will be available starting mid-October and to receive a stamp for Nail Services, you must have those services provided by a Manicuring student.
– All services are provided by students under the supervision of a licensed instructor.
The Guest Passport starts October 2!
The Salon Professional Academy Fort Wayne is conveniently located at 10264 Coldwater Road, Fort Wayne, IN 46825. To book an appointment, simply call our Guest Services team at (260) 755-3374.
Interested in Becoming a Student?
If you're passionate about the beauty industry and aspire to be a part of it, we'd love to show you around! Call Lisa in Admissions at (260) 209-1220 to schedule a tour or learn more about our concentrations in Cosmetology, Esthetics, and Manicuring.
Don't miss out on this fabulous opportunity to indulge in top-notch beauty services and take home high-quality products! Visit The Salon Professional Academy Fort Wayne, and let us pamper you like royalty.