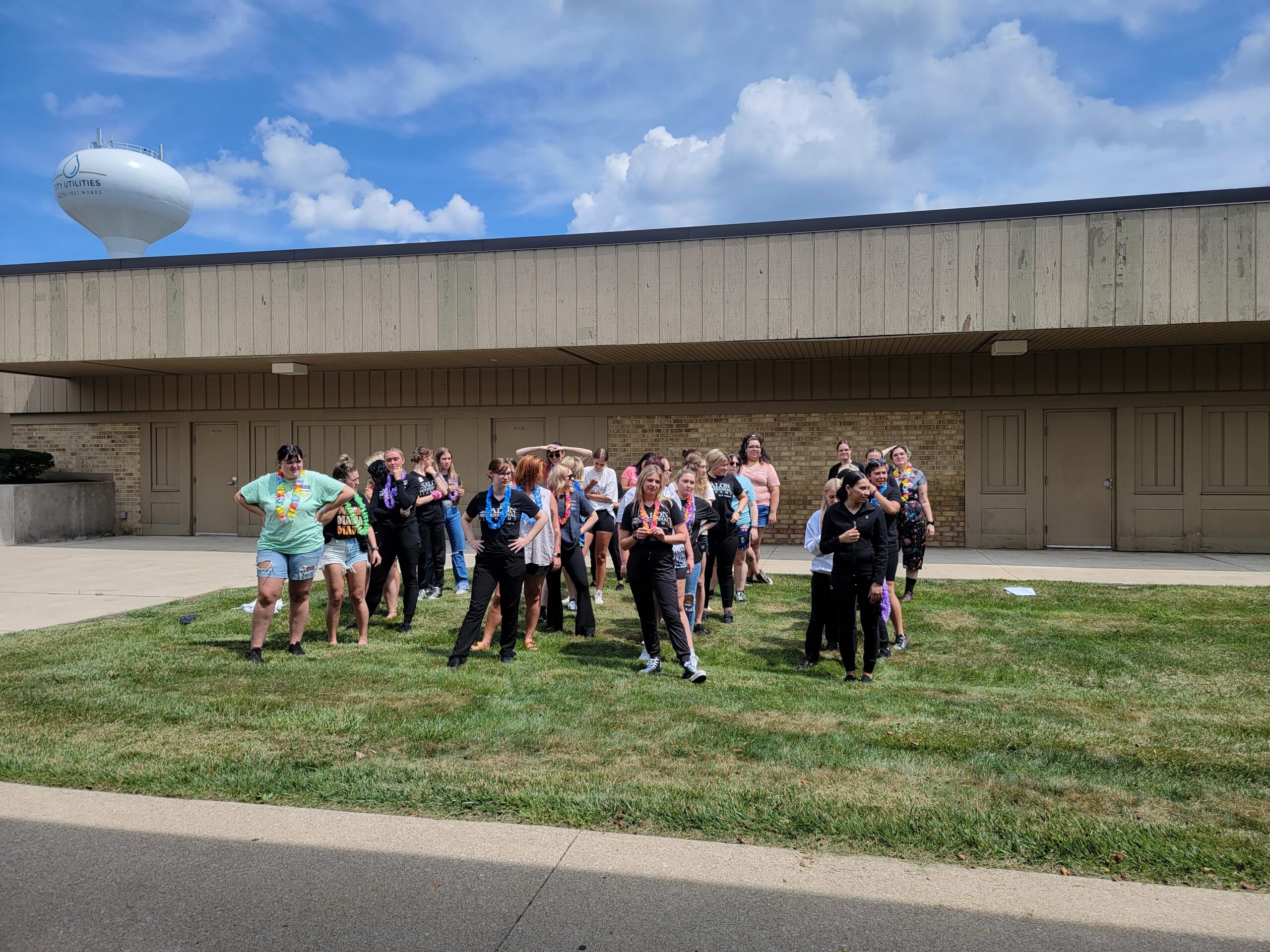 As the sun-drenched days of August roll in, The Salon Professional Academy (TSPA) Fort Wayne ignited the beauty industry scene with an unforgettable Summer Celebration. On the afternoon of August 8th, students and staff gathered for an event brimming with laughter, camaraderie, and a sense of community. From exhilarating relay races to scrumptious carry-in delights, the August Summer Celebration was a true ode to the vibrant spirit of cosmetology, esthetics, and manicuring.
Activities that Sparked Joy:
The August Summer Celebration at TSPA Fort Wayne was not just an ordinary event; it was an afternoon filled with excitement and joy. The students were super focused while playing the giant version of Guess Who educators Michele and Kailey designed using photos of TSPA Fort Wayne staff and students. One couldn't help but laugh when questions were repeated and the students all signed in unison.
Another highlight was a unique and hilarious relay race that tested students' agility and coordination. In this hysterical challenge, two students teamed up, carrying a balloon with their backs while navigating a path. The catch? The balloon couldn't fall, or they'd have to start over. Upon reaching the finish line, participants enthusiastically attached a giant cardboard hand's fingernails to the fingers using Velcro then had to make their way back to their teammates waiting for their turn. This game not only showcased the students' playful side but also their determination and teamwork.
Another enthralling activity that had everyone on the edge of their seats was the wild game of musical chairs. Amidst the upbeat tunes, esthetics student Audrey emerged as the ultimate musical chairs champion, proving that beauty industry professionals know how to have a blast while embracing friendly competition. Cosmetology student Liv was a very close second!
Culinary Delights and Community Bonding:
No celebration is complete without a tasty selection of treats, and the TSPA Fort Wayne August Summer Celebration was no exception. The event featured a large carry-in, where attendees generously contributed an assortment of goodies. The aroma of various dishes mingled in the air as participants indulged in an irresistible spread that perfectly complemented the festive atmosphere. This culinary extravaganza wasn't just about the food; it was a reflection of the strong sense of community that TSPA Fort Wayne fosters among its students and staff.
Celebrating Excellence:
The August Summer Celebration wasn't just about games and food—it was also an occasion to recognize the outstanding achievements of students in the fields of cosmetology, esthetics, and manicuring. The event shone a spotlight on the top performers in each concentration, applauding their dedication, creativity, and hard work. These students are a testament to the exceptional education and training that TSPA Fort Wayne provides, preparing them to excel in the dynamic beauty industry.
Honoring Level Jumpers and Qualifiers:
Acknowledging progress and growth is crucial, and the August Summer Celebration also celebrated the accomplishments of Level Jumpers and Qualifiers. These individuals demonstrated their commitment to continuous improvement, pushing themselves to reach new heights in their beauty education journey. By recognizing these achievements, TSPA Fort Wayne highlighted the importance of setting goals and striving for excellence.
Join the Fun at TSPA Fort Wayne:
If the August Summer Celebration at TSPA Fort Wayne has sparked your interest and ignited your passion for the beauty industry, you can be a part of the excitement too. Whether your heart is set on cosmetology, esthetics, or manicuring, TSPA Fort Wayne offers comprehensive training that equips you with the skills and knowledge needed to succeed in this dynamic field.
To take the first step toward your dream career, reach out to Lisa in Admissions at (260) 209-1220. She can provide you with further details about enrollment and help you book a personalized tour of TSPA Fort Wayne's modern facilities. Join the ranks of aspiring beauty professionals who are shaping the future of the industry and embracing their creative potential at The Salon Professional Academy Fort Wayne.
https://www.tiktok.com/@tspafw/video/7268350198487731502?is_from_webapp=1&sender_device=pc&web_id=7242024569552520746
To see more from our Tiktok account, click here.